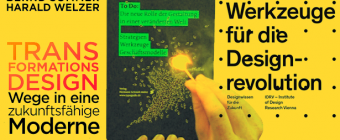 Bücher zum Thema gibt es viele, doch müsste ich mich heute auf 3 beschränken, würde ich folgende wählen – auch weil sie sich wunderbar ergänzen: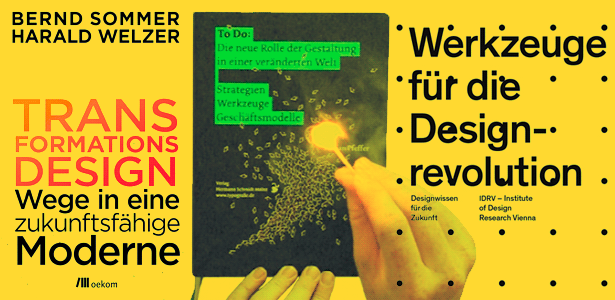 "Transformationsdesign. Wege in eine zukunftsfähige Moderne" von Harald Welzer und Bernd Sommer ist dabei, weil die Authoren präzise und eloquent Leitlinien für zukunftsfähige Gestaltung skizzieren. Dabei stellen sie zunächst die Entwicklung der Konsum- und Leistungsgesellschaft dar, ihre Auswirkungen auf Menschen, Gemeinschaften und Umwelt. Weiter geht's dann mit einer kritischen Analyse bekannter Lösungststrategien und einer Argumentation wieso Green Economy, Inwertsetzung und technische Lösungsstrategien alleine nicht funktionieren werden. Fazit: ohne Reduktion und veränderte Lebensstile wird's nicht klappen. Lebensqualität und zivilisatorische Errungenschaften müssen jedoch nicht geopfert werden – im Gegenteil. Wie das gehen kann zeigen die Autoren anhand examplarischer Design-Projekte, die vor allem auf Umnutzung, Wiederwendung, gemeinschaftliche Nutzung und anderen kreativen "Wertschöpfungen" setzen. Damit zeigen die Autoren konkrete Möglichkeiten, und üben nicht nur wissenschaftlich fundierte Kritik.
Ein ein Feuerwerk von Ansätzen und Inspirationen stellt Florian Pfeffer zusammen, in "To Do: Die neue Rolle der Gestaltung in einer veränderten Welt" – eher Hypertext als lineares Buch. Der Autor vernetzt eine Menge spannende Beispiele von ökosozialen (Design)Projekten, verbindet damit Ansätze aus anderen Bereichen und versucht Methoden oder Strategien zu extrahieren.
Wie der Titel schon sagt, werden in "Werkzeuge für die Designrevolution. Ein Handbuch für zukunftsfähige Designstrategien" praktisch nutzbare "Instrumente" für Designer vorgestellt, von der DIY Ökobilanz bis zu Kreativmethoden. Gespickt ist das Ganze mit sehr prägnanten Texten, in denen Herausforderungen der Gegenwart mit Designstrategien in Verbindung gebracht werden. Eine dichte und doch lockere Lektüre mit großzügiges Layout, und schönen Zusammenspiel von Bildern, Grafiken und Texten. Essentiell. Entstanden ist das Buch am IDRV – Institute of Design Research Vienna. Es ist auch auf englisch erhältlich als "Tools for the Design Revolution. A handbook for sustainable design strategies".
Mehr Buchempfehlungen haben wir von unseren vielen Gästen, die hier Vorträge oder Workshops gehalten haben. Wir bitten sie immer 3 Lektüreempfehlungen zu geben. Diese sind auf ihren jeweiligen Seiten zu finden, die über das Menü "PEOPLE" zugänglich sind (s.o.).
Was ist Ihre/Deine Empfehlung? Bitte im Kommentar hinterlassen.