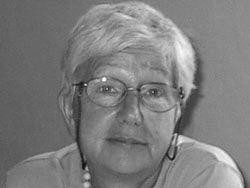 Marianella Sclavi, scrittrice e studiosa di Arte di Ascoltare e Gestione Creativa dei Conflitti.
Ha vissuto con marito e figli a New York dal 1984 al 1992, dove ha scritto due libri, A una spanna da terra, e La Signora va nel Bronx, nei quali ha sperimentato e proposto una narrazione etnografica guidata da "una metodologia umoristica". Tornata in Italia ha insegnato Etnografia Urbana alla I Facoltà di Architettura del Politecnico di Milano dal 1993 al 2008. In questo periodo ha scritto vari libri, fra i quali Arte di Ascoltare e Mondi Possibili (prima edizione 2000. Attualmente lavora come libera professionista facilitatrice di processi partecipativi.
01.04.2014 19:00 | Ser F0.03 | BY DESIGN OR BY DISASTER TALKS
È come fare la piadina: è facile se si hanno gli ingredienti. Riflessioni su design, facilitazione, co-progettazione creativa.
Il singolo tratto distintivo delle scuole e società "felici", dove le persone si incontrano, lavorano e studiano volentieri e in modo fruttuoso, è la capacità di trasformare la diversità in risorsa. Si tratta di ambienti in cui diventa "normale" considerare la molteplicità dei punti di vista come occasione per costruire soluzioni creative di mutuo gradimento, invece che come occasione per costruire degli schieramenti ostili e contrapposti. Siamo abituati a trascurare il rapporto fra design del contesto di incontro e dinamiche di gruppo. Invece è assolutamente centrale.
SUGGESTED BOOKS



Interesting questions / statements
How can we say no to people without losing their esteem ?
You may find yourself thinking that you have just one personality.Perhaps you say to yourself " I am a kind person! or " I am a timid person". Think of yourself as having several subpersonalities.
When you go into a new situation, think about which of your subpersonalities you want to take the lead.