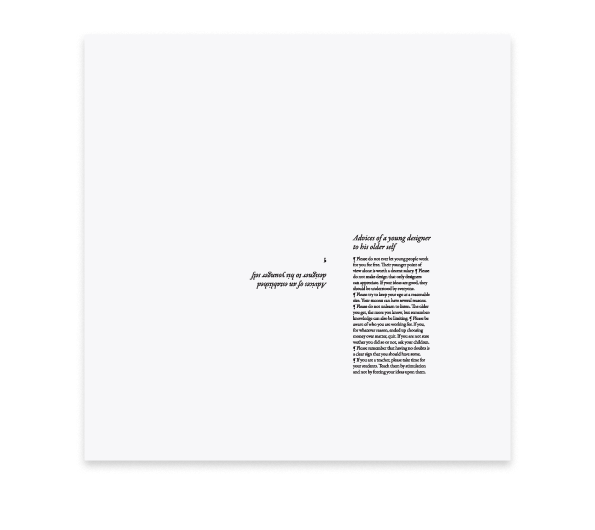 Korbinian Kapfhammer: Advices
EN | Korbinian Kapfhammer
(*1987), was born and raised in Munich. After completing a three year apprenticeship as a cabinetmaker at the Berufsfachschule | Berchtesgaden he is currently studying graphic and industrial design at the Free University of Bolzano. Based on his experience in crafts, he is at the moment engaging in different design disciplines, always striving for a critical point of view without losing sight of the big picture. He is old enough for grey hair but young enough not to feel comfortable when writing about himself in the third person.
IT | Korbinian Kapfhammer
(*1987), è nato e cresciuto a Monaco. Dopo aver concluso un percorso formativo per falegnami di tre anni presso la Berufsfachschule | Berchtesgaden si iscrive al corso di design e arti presso la Libera Università di Bolzano. Basandosi sulla sua esperienza artigiana si cimenta nella pratica di diverse discipline di design, mantenendo un punto di vista critico sulle questioni che indaga. Ha già i capelli grigi ma è ancora giovane da sentirsi a disagio quando deve scrivere su se stesso in terza persona.
DE | Korbinian Kapfhammer
(*1987), ist in München geboren und aufgewachsen. Nach einer dreijährigen Ausbildung zum Schreiner an der Berufsfachschule | Berchtesgaden, studiert er derzeit Grafikdesign und Produktdesign an der Freien Universität Bozen. Auf seinen Erfahrungen im Handwerk aufbauend versucht er sich gerade in verschiedenen Designdisziplinen, immer versucht einen kritischen Standpunkt in Bezug auf den Sinn des Ganzen einzunehmen. Er ist alt genug für graue Haare aber jung genug um sich nicht wohl zu fühlen, wenn er in der dritten Person über sich selbst schreibt.
korbinian.kapfhammer@gmail.com