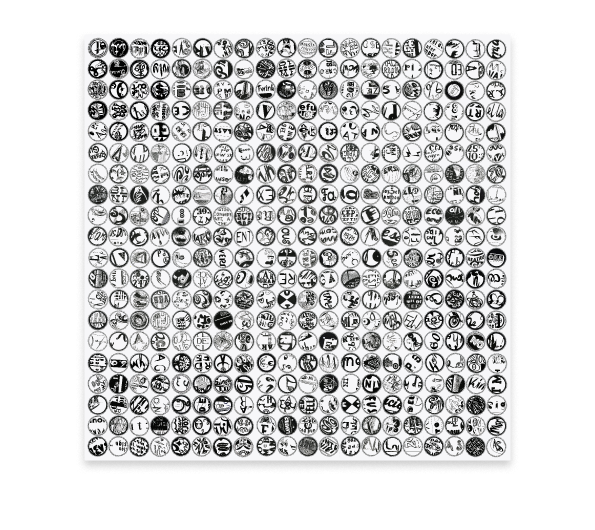 Ed Fella: My Bit Stickers
EN | Ed Fella
(*1938), one of the most renowned typographers and illustrators from the USA, rarely touches computers, instead of this he uses manual techniques that are quite out of fashion. He often uses torn, faded copies, which he then skillfully reassembles to typographic compositions. His work combines the Fluxus and Hippie movements of the rebellious 1960s. Typical of his work are the more than sixty posters that Fella designed in the 1990s for the Focus Gallery in Detroit. Besides the countless catalogs and posters, he also created a series of 170 illustrative elements for Emigré magazine. Edward Fella is a professor of Graphic Design at CalArts University in Valencia, California.
IT | Ed Fella
(*1938), uno dei piú prestigiosi tipografi e illustratori degli Stati Uniti, usa solo raramente il computer, attinge invece a tecniche manuali, che sono fuori dalle mode. Utilizza frequentemente fotocopie lacerate e slavate che riassembla a composizioni tipografiche. I suoi lavori combinano le esperienze di Fluxus e il movimento Hippie degli anni ´60. Uno dei suoi lavori più noti comprende più di 60 poster progettati per la Focus Gallery a Detroit negli anni ´90. Oltre agli innumerevoli cataloghi e poster, ha creato una serie di 170 elementi illustrativi per la rivista »Emigré«. Edward Fella è professore di graphic design all´Università CalArts di Valencia, California.
DE | Ed Fella
(*1938), einer der renommiertesten Typographen und Illustratoren aus den USA, benutzt nur selten einen Computer. Stattdessen greift er auf manuelle Techniken zurück, die sich weit ab von aktuellen Trends befinden. Er benutzt häufig zerrissene, verblasste Fotokopien, die er zu typografische Kompositionen zusammenführt. Seine Arbeiten kombinieren den Fluxus und die Hippie Bewegung der rebellischen 1960er Jahre. Eine seiner typischen Arbeiten sind die mehr als 60 Poster, die Fella in den 1990er Jahren für die Focus Gallery in Detroit entworfen hat. Neben den zahllosen Katalogen und Postern hat er auch eine Serie von 170 illustrativen Elementen für das Emigré Magazin kreiert. Edward Fella ist Professor für Grafik Design an der CalArts Universität in Valencia, California.
www.edfella.com
edfella@aol.com