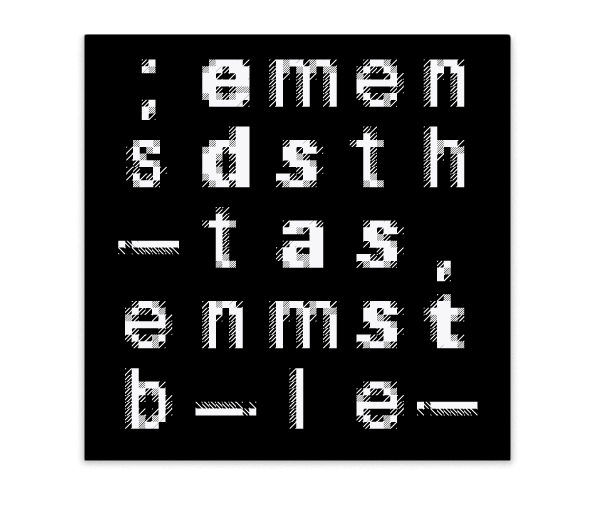 Stephanie & Ralf de Jong: Nemht, esst
EN | Stephanie & Ralf de Jong
Stephanie de Jong (*1974), study in Mainz and Kassel and Ralf de Jong (*1973), study in Kassel and The Hague. Ralf is professor of typography at the Folkwang University in Essen. They work together as the »de Jong typography« in the sector of typographic design. They are among others, authors and co-authors of the textbooks: »Schriftwechsel« and »Detailtypografie« which belong within the German-speaking areas to the most important standard works of typography. They work with a wide range of media in 2D and 3D – but almost always in complex contexts and primarily for public and institutional clients. Their work has received international awards and is shown in the collections of the Red Dot Design Museum and the graphic collection of the State Museums of Berlin.
IT | Stephanie & Ralf de Jong
Stephanie de Jong (*1974), ha studiato a Mainz e Kassel e Ralf de Jong (*1973), ha studiato a Kassel e l'Aja. Ralf é professore di typografia della Folkwang Universität a Essen. Sono tra gli altri, autori e co-autori dei libri di testo: »Schriftwechsel« e »Detailtypografie« che, nelle aree di lingua tedesca rappresentano i più importanti lavori di riferimento in ambito tipografico. Lavorano insieme come »de Jong Typografie« nell'ambito della tipografia. Ralf e Stefanie lavorano come grafici indipendenti ma quasi sempre in contesti complessi e principalmente per clienti pubblici e istituzionali. I loro lavori hanno ricevuto numerosi riconoscimenti internazionali e sono presenti nelle collezioni del Red Dot Design Museum e nella collezione grafica dei Musei Statali di Berlino.
DE | Stephanie & Ralf de Jong
Stephanie de Jong (*1974), Studium in Mainz und Kassel und Ralf de Jong (*1973), Studium in Kassel und Den Haag. Ralf ist Professor für Typografie an der Folkwang Universität der Künste in Essen. Zusammen arbeiten sie als »de Jong Typografie« im Bereich der typografischen Gestaltung. Sie sind unter anderem Autoren und Co-Autoren der Lehrbücher: »Schriftwechsel« und »Detailtypografie«, welche im deutschen Sprachraum zu den wichtigsten Standardwerken der Typografie gehören. Sie sind medienunabhängig tätig, auf der Fläche oder im Raum – aber beinahe immer in komplexen Zusammenhängen und vorwiegend für öffentliche und institutionelle Auftraggeber. Ihre Arbeiten wurden vielfach international ausgezeichnet und sind in den Sammlungen des Red Dot Design Museum und in der Graphiksammlung der Staatlichen Museen zu Berlin vertreten.
www.dejong-typografie.de
ralf@dejong-typografie.de