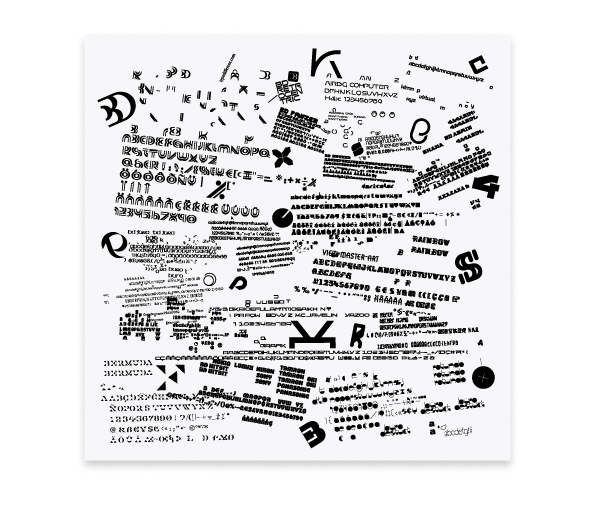 Büro Destruct: BD Type Crumbs
EN | Büro Destruct
Büro Destruct collective was founded in 1994 in Bern, Switzerland, by four graphic designers: Marc Brunner, Heinz Reber, Heinz Widmer and Lorenz Gainfreda. The concept of keeping open the boundary between art and commercial graphic design was one of their keys to become an international acclaimed design studio. The first comprehensive publication was a collection of works regarding Swiss graphic design which was released in 1999. With exhibitions, lectures and workshops throughout the world they keep themselves in a process of constant renewal.
IT | Büro Destruct
Büro Destruct é nato come collettivo di grafici nel 1994 a Berna in Svizzera. L'idea di mantenere aperti i confini tra arte e grafica commerciale è stata sin dall'inizio uno dei motivi principali del successo internazionale del loro studio. Il gruppo è composto da Marc Brunner, Heinz Reber, Heinz Widmer e Lorenz Gainfreda. La prima pubblicazione internazionale nel 1999 è stata una collezione di lavori riguardanti la grafica svizzera. Attraverso mostre, conferenze e convegni internazionali si ridefiniscono continuamente, aumentando così la propria rete di conoscenze e collaborazioni.
DE | Büro Destruct
Das Büro Destruct entsteht 1994 als Grafikkollektiv in Bern Schweiz. Von Anfang an verschreibt sich das Kollektiv dem Freiraum zwischen Kunst und Gebrauchsgrafik. Dies war einer der Erfolgsgründe für das international anerkannte Designstudio. Die 4 Mitglieder sind Marc Brunner, Heinz Reber, Heinz Widmer und Lorenz Gainfreda. Eine erste umfassende Werkschau über die Schweizer Grafik wird 1999 publiziert. Durch Austellungen, Vorträge und Workshops erfindet sich Büro Destruct kontiniurlich neu, verliert dabei aber nicht den lokalen Bezug zu der Schweiz.
www.burodestruct.net
bd@burodestruct.net