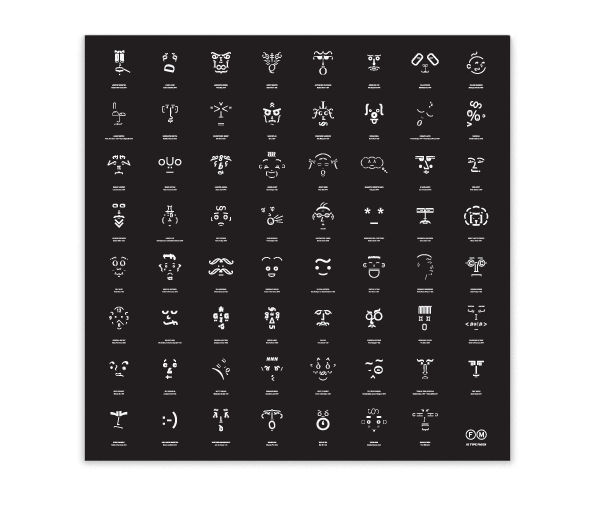 studio FM milano: Type Faces
EN | studio FM milano
Set up in 1996 by Barbara Forni and Sergio Menichelli – who were joined by Cristiano Bottino in 2000 – Studio FM specialises in graphic design, focusing in particular on art direction, corporate identity, graphics for publishing, backs, wayfinding and web design, operating in a wide array of commercial environments such as fashion design, architecture, industry, culture and also working for a number of institutional clients. Based in Milan, the studio leverages the expertise of an in-house staff of graphic designers and web designers and also benefits from the input of qualified professionals such as photographers, copywriters, illustrators, designers, etc. The studio is currently collaborating with Antonio Citterio&Partners on the design of the new international airport at Dhoa in Qatar (35,000 m2) concentrating on the aspects of wayfinding and applied graphics. The studio's designs have won several prizes and have been published on a multitude of occasions.
IT | studio FM milano
Fondato nel 1996 da Barbara Forni e Sergio Menichelli – con la partnership di Cristiano Bottino dal 2000 – è specializzato in graphic design, e si occupa in particolar modo di art direction, immagine coordinata, grafica editoriale, allestimenti, way finding (segnaletica) e web design operando in ambiti commerciali diversificati quali, moda design, architettura, industria, cultura ed ambiti istituzionali. Situato a Milano, si avvale della collaborazione di uno staff interno di graphic e web designers, nonché del contributo di professionisti qualificati come fotografi, copywriter, illustratori, designers, etc.. Attualmente sta collaborando con il team di studio di Antonio Citterio&Partners al progetto del nuovo aeroporto internazionale di Dhoa (Qatar) Lounges e Actitity Noods (35.000 mq) seguendone gli aspetti di way finding e di grafica applicata. I progetti di Studio FM Milano hanno ricevuto diversi premi e sono stati pubblicati in svariate occasioni.
DE | studio FM milano
wurde 1996 von Barbara Forni und Sergio Menichelli gegründet. Studio FM ist spezialisiert auf Grafik Design, Art Direction, Corporate Identity, Buchgestaltung, Orientierungs- und Webdesign. Sie operieren im breiten, kommerziellen Umfeld des Modedesigns, der Architektur, der Industrie und Kultur, ebenso arbeiten sie für institutionelle Klienten. Nicht nur hauseigene Grafiker und Web Designer, auch Fachleute von außen, wie Fotografen, Texter, Illustratoren, Designer etc. unterstützen das Studio FM. Zusammen mit dem Team von Antonio Citterio & Partners entwarfen die Mitarbeiter des Studio FM das Orientierungssystem des neuen International Airport in Doha, Qatar (35.000 m2). Das Studio gewann zahlreiche Auszeichnungen und ihre Arbeiten wurden vielfach veröffentlicht.
www.www.studiofmmilano.it
info@studiofmmilano.it