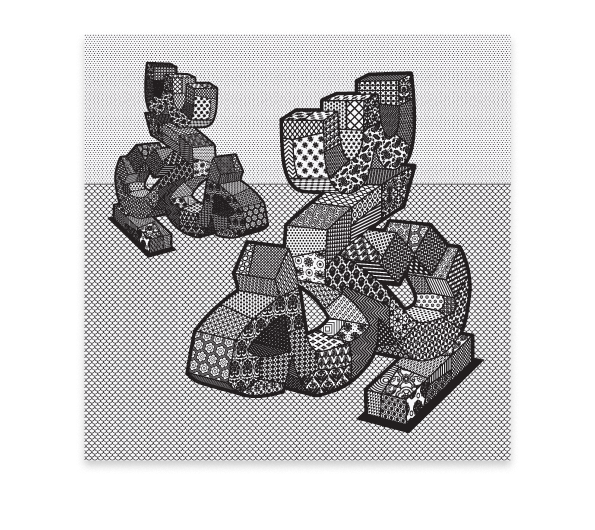 Homa Delvaray: Patchwork
EN | Homa Delvaray
(*1980), is one of the most distinguished, contemporary, iranian communication designers. Delvaray's creative emphasis lies on designing uncommon 3D typography with her blend of traditional elements with modern elemental forms and substances. Her aim is to produce a maximalist multi-voiced presentation, delighting the senses in an unusual/modern/ethnic work. This has become her trademark in recent years. The works of Homa Delvaray inhabit an intermediary world between design, illustration and art. She collaborated with international agencies such as Ogilvy & Mather, Eps51 and many more. Delvaray is also member of Dabireh, a Collective of young Iranian typographic designers who share a passion for calligraphy and typography. Since 2010 she´s art-director of the Vitrinrooz virtual gallery.
IT | Homa Delvaray
(*1980), é una dei piú grandi designer contemporanei iraniani nel campo della comunicazione visiva. La sua forza progettuale sta nello sviluppo di composizioni tipografiche tridimensionali, caratterizzate da elementi orientaleggianti. Collabora con agenzie come Ogilvy & Mather, Eps51 e molte altre. Delvaray é membro di Dabireh, un colletivo di giovani designer iraniani, che condividono la passione per la calligrafia e la tipografia. Dal 2010 è Art Director della Vitrinrooz virtual gallery.
DE | Homa Delvaray
(*1980), ist eine der bedeutendsten, zeitgenössischen, iranischen Kommunikationsdesignerinnen. Ihr gestalterischer Schwerpunkt liegt in der Entwicklung außergewöhnlicher typografischer 3D-Kompositionen, die oftmals mit orientalischen Elementen verbunden werden. Homa Delvaray bewegt sich mit ihren Arbeiten zwischen den Bereichen Design, Illustration und Kunst. Sie arbeitete mit Agenturen wie Ogilvy & Mather, Eps51 und anderen zusammen. Delvaray ist außerdem Mitglied von Dabireh, einem Kollektiv junger, iranischer Gestalter, die eine große Leidenschaft für Kalligrafie und Typografie teilen. Seit 2010 ist sie als Art Director der Vitrinrooz Virtual Gallery tätig.
www.homadelvaray.com/
info@homadelvaray.com