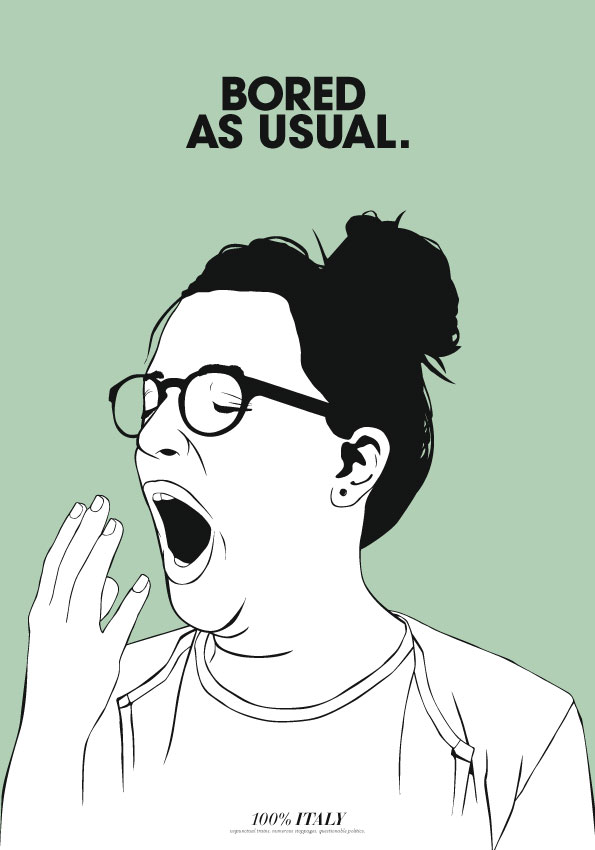 BORED AS USUAL
Sara Pallua
(*1989) born in South Tyrol. This tiny land resides on Italian territorial but has German and Austrian culture and habits. She tries to connect the best Italian and the best German attitudes. After finishing school she decided to study design and art in Bolzano. Now she is in her fifth semester. She likes to try out different techniques and materials and is always searching for new challenges. Sara tries to be open, to discover every day something interesting and to learn by criticism.
Martin Kerschbaumer
(*1988) is a south-tyrolean graphic designer. Born in Brixen, he learned at the local "Institute for publicity graphics". After a year of experience in Firenze studying industrial design he continued a multidisciplinary education at the Free University of Bolzano. His focal point is Visual Communication in all his facets. Attracted by analogue print techniques and typography, he likes to combine different aspects to a whole issue.
Sara Pallua
(*1989) è nata in Alto Adige. Un piccolo paese al nord d'Italia che ha attitudini e culture austriache e tedesche. Lei prova a connettere i migliori aspetti italiani e tedeschi. Dopo aver finito la scuola superiore ha deciso di studiare design e arti a Bolzano, dove adesso sta svolgendo il quinto semestre. Ama provare differenti tecniche e materiali ed è sempre in cerca die nuovi. Sara è aperta per scoprire qualcosa di nuovo ogni giorno e imparare da critiche.
Martin Kerschbaumer
(*1988) è un graphic-designer altoatesino. Nato a Bressanone, ha imparato alla scuola per operatori grafici. Dopo un'anno di esperienza a Firenze, dove ha studiato design industriale ha continuato un'educazione multidisciplinare presso la libera Università di Bolzano. La comunicazione visiva in tutte le sue facette è il suo punto forte. Attratto da tecniche di stampa analogiche e tipografia, ama a combinare diversi aspetti per ottenere il massimo.
Martin Kerschbaumer
Sara Pallua