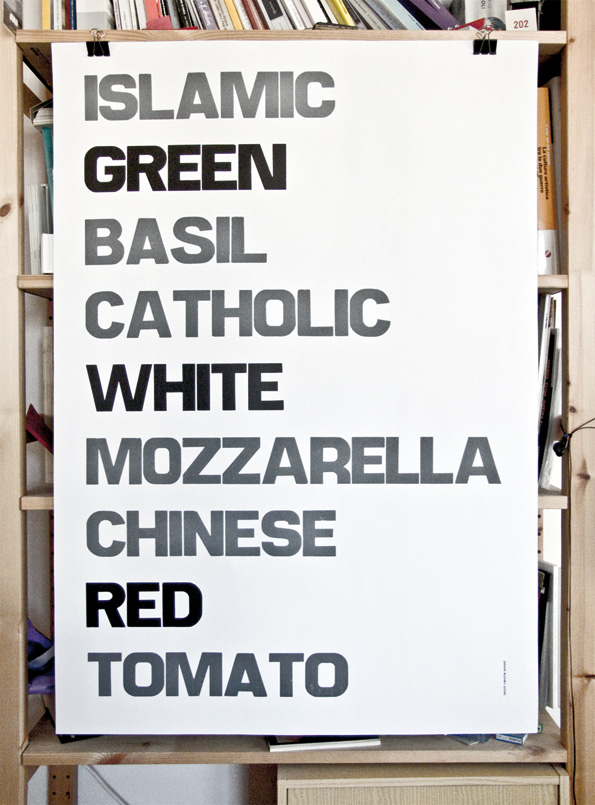 GREEN, WHITE, RED / Leonardo Sonnoli, Irene Bacchi, Emilio Macchia
Leonardo Sonnoli
(*1962) Trieste, Italy – graduated at the Isia of Urbino, is a partner of Tassinari/Vetta studio in Trieste. He is involved with the visual identity of private and public companies, with the communication of cultural events and book design. Amongst his works, the visual identity for the 50th International Art Exhibition of the Venice Biennale, the design for archaeological exhibitions at the Colosseo in Rome, a typographic installation at Palazzo Grassi in Venice, the collaboration with the New York Times. Since 2000 Sonnoli is a member of the Alliance Graphique. In 2008 he got the Rodchenko Award. He is teaching at the IUAV University of Venice and at the ISIA in Urbino, living in Rimini.
Leonardo Sonnoli
(*1962) Trieste, Italia – diplomato all'Isia di Urbino è attualmente partner dello studio Tassinari/Vetta. Si occupa di identità visiva di istituzioni pubbliche e aziende private, in special modo in campo culturale, dove ha curato la comunicazione di musei, biblioteche e gallerie d'arte. Tra i suoi lavori, l'identità visiva della 50esima mostra Internazionale d'Arte La Biennale di Venezia, le mostre di archeologia al Colosseo di Roma dal 2007, l'installazione tipografica "grassitypographicalassemblage" a Palazzo Grassi a Venezia, l'identità per le gallerie d'arte contemporanea Cardi Black Box e Percorsi, la collaborazione con il New York Times, l'identità visiva del Napoli Teatro Festival Italia dal 2008. Dal 2000 è membro dell'AGI, Alliance Graphique Internationale. Nel 2008 è stato insignito del Rodchenko Award. Insegna allo Iuav di Venezia e all'Isia di Urbino. Vive e lavora a Rimini.